Our Comprehensive
Tele-Optometry
Digital Eye Exam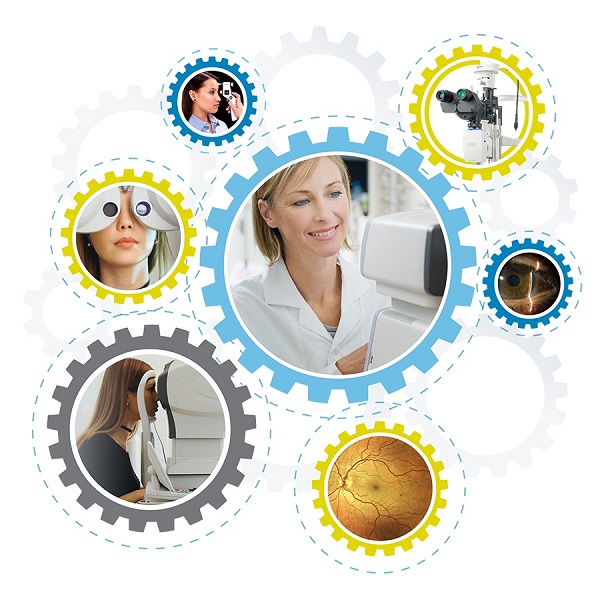 Ocular Tele-Health Exams
In 30 Minutes or Less
1
PATIENT MEDICAL HISTORY
Our Tele-Optometry eye exam begins with the patient electronically completing a questionnaire to capture their medical history and establish the patient's Electronic Medical Record (EMR).
2
VISUAL PRE-TESTING
An on-site optical assistant uses an autorefractor and autokeratometer to provide an objective baseline reading of the patient's prescription. If the patient wears glasses, the prescription is read using an auto-lensometer.
3
VISUAL ACUITY TESTING
Using state-of-the-art, digital phoropters, a subjective refraction and clinical vision analysis is performed on the patient in the optical store in real-time via HD video conferencing by a remote doctor or technician. Scientific algorithms are used to guide the process to arrive at the best prescription that optimizes the patient's comfort and vision.
4
EYE HEALTH EXAM
The on-site optical technician then performs a series of tests to evaluate the patient's eye health, including tests for glaucoma, diabetic retinopathy, macular degeneration, and cataracts. The comprehensive eye exam includes the following tests/assessments:
Ocular Alignment and Motility
Pupil Function
Color Vision
Anterior Segment of the Eye; using Digital Slit Lamp images & videos
Non-Contact Tonometry to test eye pressure
Visual Field Testing to measure peripheral vision
Fundus Photography to analyze the retina and optic nerve
5
LIVE CLINICAL REVIEW
BY A LICENSED OPTOMETRIST
All the data and images from the patient's medical history and eye exam are securely transferred to a remote licensed optometrist. The doctor carefully reviews the patient's eye health with them in real-time via HD video conferencing and finalizes their prescription.
6
ELECTRONIC MEDICAL RECORDS
All the data and images from the patient's medical history, pre-testing, subjective acuity testing, eye health tests, doctor assessment, and final prescription are captured and maintained as part of the patient's EMR. This allows the doctor to easily monitor changes in the patient's vision and eye health over time and allows for complete portability of the patient's medical records.
7
PATIENT RX AND REFERRAL
Within minutes of completing the exam, the doctor electronically sends the patient's prescription to the location, where it's printed and given to the patient— allowing them to purchase eyeglasses or contacts while still in the store. The doctor will note any eye health issues and, if needed, after speaking to the patient via live video conferencing will refer the patient for follow-up care.

8
PATIENT FEEDBACK
Upon completing the eye exam, patients are asked to complete a brief survey. Patient feedback is overwhelmingly positive with 98% patient satisfaction and 84% of patients reporting they plan to recommend the 20/20NOW eye exam to a friend or relative.
Increase Optical Sales
With Tele-Optometry
Optical retailers that provide comprehensive eye exams during all of their operating hours can significantly increase their optical revenue.
Offering eye exams, means more at risk patients seen, more prescriptions, and more glasses and contacts are sold.
Seamless Integration
20/20NOW Provides Seamless Integration of Technology and People

Diagnostics
Whether you have existing technology or need new equipment, we can assess what you will need to implement Tele-Optometry in your practice.

Software
20/20NOW provides the software and integration needed to connect your ophthalmic equipment with our EMR and refraction software platform. We can export completed medical records to your existing EHR or practice management solutions.

Professional Services
20/20NOW provides professional services consisting of certified remote technicians to perform the subjective visual acuity tests through automated refractive instruments and optometrists presence through high-definition, real-time, video conferencing. Our remote optometrists perform the comprehensive exams and finalize the needed eyeglass and contact lens prescriptions. We bring the doctor to the patient.
Installation
We take care of everything, from site planning and installation to training your staff.

Training
20/20NOW provides 5 days of onsite training to get your team ready to perform the pre testing and facilitation of the remote exams.

Support
20/20NOW has a full U.S. based team in house, both clinical and IT, dedicated to supporting your business.
FAQs

With many different Tele-Health options to choose from and state regulatory landscapes to maneuver in, we know you have a lot of questions. These are just a few of the most common questions.
Have More Questions?
We wish it were simple, but if it was, everyone could do it. Contact us today to discuss what is required to get started.